Painless Laser Dentistry in Dwarka
What are lasers used for in dentistry?
They can be used for aiding in dental procedures like- crown lengthening, teeth whitening (bleaching), treating gum diseases, etc. They can precisely remove tissues, heal painful ulcerations like canker sores.
ADVANTAGES :
They are minimally invasive tools (involve taking away less tissue). One of the biggest advantages of laser is procedure is
1) BLOODLESS and nearly PAINLESS.
2) Surgical site heals really fast as compared to conventional healing with REDUCED POST-OP DISCOMFORT.
SOFT TISSUE TREATMENTS :
• GUM SURGERY : lasers can treat gum disease by killing harmful bacteria deep in pockets below the gum line, and removing the diseased tissue without harming the healthy tissue.
Used for treatment gum problems like :-
A. BLEEDING GUMS
They can also remove the thin layer of cells that inhibits reattachment of the gum and bone tissues to the tooth, with less bleeding and pain.
Bleeding gums with swelling.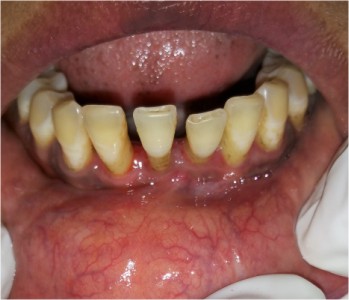 2 days post laser treatment: Bleeding & swelling reduced.